All the World's a Classroom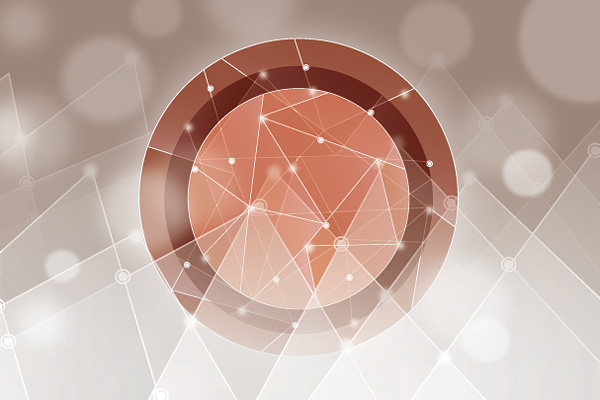 Photo credit: dryicons
Time is something fleeting that's barely felt in the present. Things move and change in time, but in the present, they are often imperceptible because we, the observers, move along with them. Only when we "pause and reflect," metaphorically taking ourselves out of the moving system, can we see the changes around us that are in fact pretty drastic.
The easiest example of this is observing a growing infant or toddler. The parents or siblings may not notice the height change as much as a distant relative who sees the child once a year. "Oh, he/she's grown so much," they say. The same changes, in proximity, are not as dramatic.
Since dramatic narratives are really appealing, I take quite a bit of pleasure doing the exercise of zooming out and observing things at a macro level. At this vantage point, storylines become larger than life. One of these exercises is studying timelines.
Timelines tell grand stories of how the world has altered. They can reveal things that may be imperceptible over years, decades, or even generations.
Usually, timelines are created for specific narratives, for example the timelines of U.S. presidents, American history, or the French Revolution, etc. While these are already fascinating, what fascinates me even more is overlaying these specific timelines into a more complete picture.
I call this the "vertical slice"—it's when you have multiple timelines with time (e.g., year, centuries, etc.) as the horizontal axis, overlaid on top of each other do compared side-by-side, and you draw a vertical line at a particular time point. A different story then emerges. This vertical slice in time shows what things happened concurrently at a given point.
This is really a simple pivot in data visualization, but as data analysts know, merely inverting the x- and y- axis sometimes reveals different perspectives of the same data set. What's amazing about data analysis these days is the technological advancement that allows more and more capabilities to tell stories out of complex data.
Back in 2011, I worked on several simple timelines that have continued to be the most visited posts on my old blog. Today, I'm about to embark on a fun data visualization project again. Along the way, I'm also trying to learn more about good principles of data visualization, so if you have recommendations on related books or resources, let me know!
Some TED Talks on data visualization:
Josephine Elia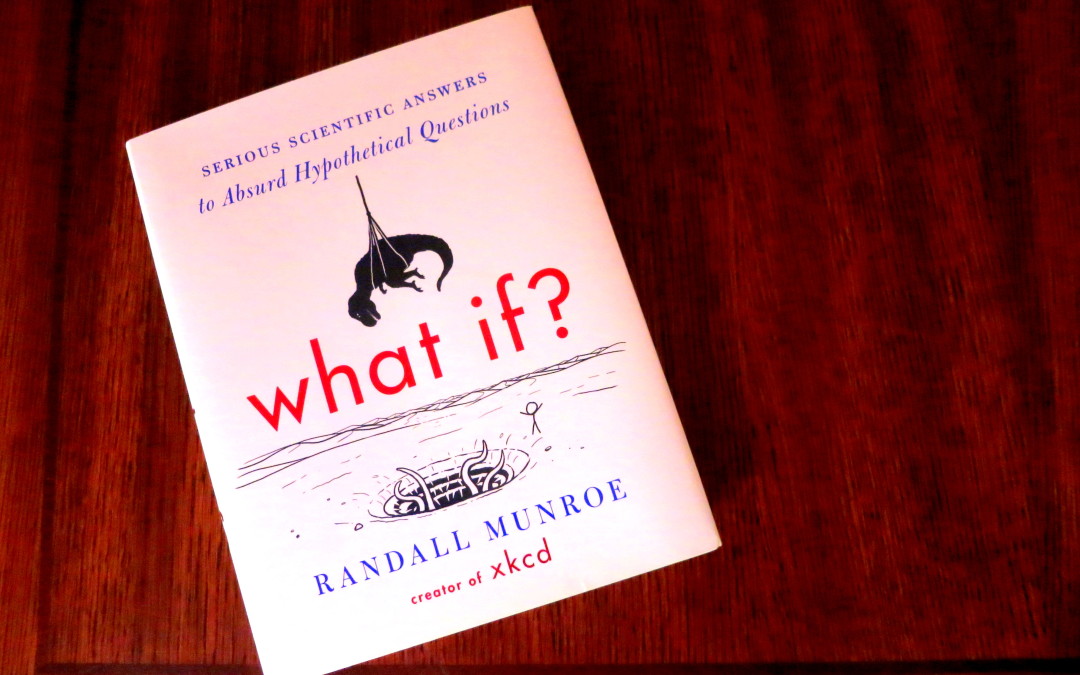 As the self-designated curator of the Elia-Loi library, I added Randall Munroe's What If to our collection using the promotional credit I received from Amazon Prime Day. The full title is What If: Serious Scientific Answers to Absurd Hypothetical Questions. Awesome. Just the type of coffee-table book our nerdy home needs.

How I Came Across the Title
Doing graduate school in engineering warrants familiarity with comic strips such as PHD comics and xkcd. Randall Munroe is the creator of xkcd. One day, my labmate Ruth invited me to see Munroe's talk during his Princeton visit. I didn't remember much from the talk, but it was a fun night.
Munroe is a NASA engineer turned full-time comic artist. Last year he gave an entertaining TED talk, which you can watch below. Now, we're a pair of nerds in my home, but Munroe is a nerd nerd (watch the video). And that's cool.

I learned about his book from his interview with Colbert. Yes, I do get a lot of reading ideas from fake news shows…
Thoughts on the Book
Pure fun. It's funny and nerdy—I love it! The first question he answers in the book is, What would happen if the Earth and all terrestrial objects suddenly stopped spinning, but the atmosphere retained its velocity? I read this chapter at the bookstore and I was pretty much hooked. Try reading it yourself at your local bookstore!
In another chapter, he shows the mathematical absurdity of thinking that everyone only has one soul mate. Of course, the book entertains with his comic drawings too.
The Trail
I have a few science-related books on my list, but the one I am most looking forward to is Applied Minds: How Engineers Think, to be released in August.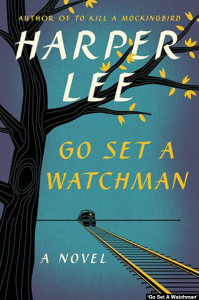 I love Go Set A Watchman (GSAW). I enjoy GSAW as a book, but I love it ever more as a phenomenon. From the story of how the manuscript was discovered, the speculation on whether or not Harper Lee was forced to publish it, the debate on whether it should or shouldn't be published, to the discussions surrounding racial tensions dealt in the book, everything surrounding GSAW is unprecedented.
The reverse chronological timeline of the writing of GSAW and To Kill A Mockingbird (TKAM) versus their publications is the trickiest, because it colors the interpretation of the story and its characters. Consequently, it generates so many conversations and fascinating, enjoyable articles.
Before Go Set A Watchman
I had long neglected the skill of reviewing literary fiction. I can say, however, that I read GSAW with fresh perspective because I did not have much attachment to TKAM or its beloved character, Atticus Finch.
When I read TKAM in middle or high school in Indonesia, I had vague concepts of the cultural background from which the story emerged. My English was in early development, so the language, culture, and the world that the novel described were entirely foreign to me. I had no idea what Maycomb, Alabama represented nor was I aware of the cultural differences that existed in America.
My shallow view was essentially this: people said it was a good book and Atticus Finch was a good guy. He said something about picturing ourselves in another person's shoes.
The Comparison
With a phenomenon like GSAW—a 'sequel' after 55 years of its 'original'—it's hard not to engage in comparisons. To me, however, the comparison between TKAM and GSAW both makes and doesn't make sense. In the literary sense, the comparison means little since GSAW was not intended to be published as TKAM was. It was unfinished, in a way, so of course the result is less compelling and less polished than TKAM.
Moreover, after TKAM, anything that Harper Lee would have published would most likely be less compelling because of this reason. A spectacular performance, by regression to the mean, is likely to be followed by a comparatively 'worse' performance, even though the subsequent may still be good work.
What makes sense, though, is the comparison between the characterization of Atticus Finch and Jean Louise (Scout), the two prominent characters, in both books. But since I don't remember TKAM, I can't make any comparison, escaping this discussion altogether after writing three paragraphs on it…
Complexity
What I like the most about GSAW is the complexity of Atticus Finch as a character. While Atticus is largely heralded as the hero of TKAM, GSAW does not have staple heroes or villains. Jean Louise, as the vehicle of the narrative, is naturally a sympathetic character, yet her reactions to discovering her father's attitudes toward blacks are a mix of righteous indignation and immaturity. Atticus, all the while subscribing to the superiority of his race, still exudes some wisdom in the handling of his daughter's outrage. In the words of Uncle Jack (Atticus' brother), "[Atticus] was letting you break your icons one by one. He was letting you reduce him to the status of a human being."
The heart of the novel is the weaning of Jean Louise's conscience—and perhaps also the readers'—off Atticus'. To this weaning process, both parental figures are proud of Jean Louise's clash with them, even though they differ in opinions.
All taken from the words of Uncle Jack,
"Every man's island, Jean Louise, every man's watchman, is his conscience. There is no such thing as a collective conscious."

". . . now you, Miss, born with your own conscience, somewhere along the line fastened it like a barnacle onto your father's. As you grew up, when you were grown, totally unknown to yourself, you confused your father with God. You never saw him as a man with a man's heart, and a man's failings— I'll grant you it may have been hard to see, he makes so few mistakes, but he makes 'em like all of us. You were an emotional cripple, leaning on him, getting the answers from him, assuming that your answers would always be his answers."

"When you happened along and saw him doing something that seemed to you to be the very antithesis of his conscience— your conscience—you literally could not stand it." Go Set A Watchman, Chapter 18.
The Questions
What is the message of GSAW? Is it about freedom in opinions? Is it about the handling of familial relationships? Is it arguing a balance between idealism and realism?
I'm not sure what the novel's intents are. Then again, the question of the author's intent regarding GSAW is a tricky one—we may never know what Harper Lee thought when she wrote this manuscript. Plus, GSAW is too short of a story to handle the questions that arise post-confrontation between Atticus and Jean Louise.
What matters, though, is us, the readers, having these discussions now in 2015 vis-à-vis racism and discrimination. While GSAW does not provide resolutions to the coexistence between the two attitudes that Jean Louise and Atticus represent, we must. What are we to do with the Jean Louises and Atticuses in our society? How are we to live with differing and conflicting consciences?
Having a hero such as Atticus Finch being brought down to "the status of a human being" is disorienting to many, but it is a powerful device to disrupt the mind of a society. Do we now tolerate, sympathize, or discard him? Can we, should we, in his TKAM words, "consider things from his point of view," "climb into his skin and walk around in it." As a society, we see Atticus' views in GSAW as objectionable. But what do we do with the human being?
Harper Lee does not answer these questions for us and she's not obligated to do so. We, individually and collectively, must discover them for ourselves. Thanks to GSAW, we're talking about it.