All the World's a Classroom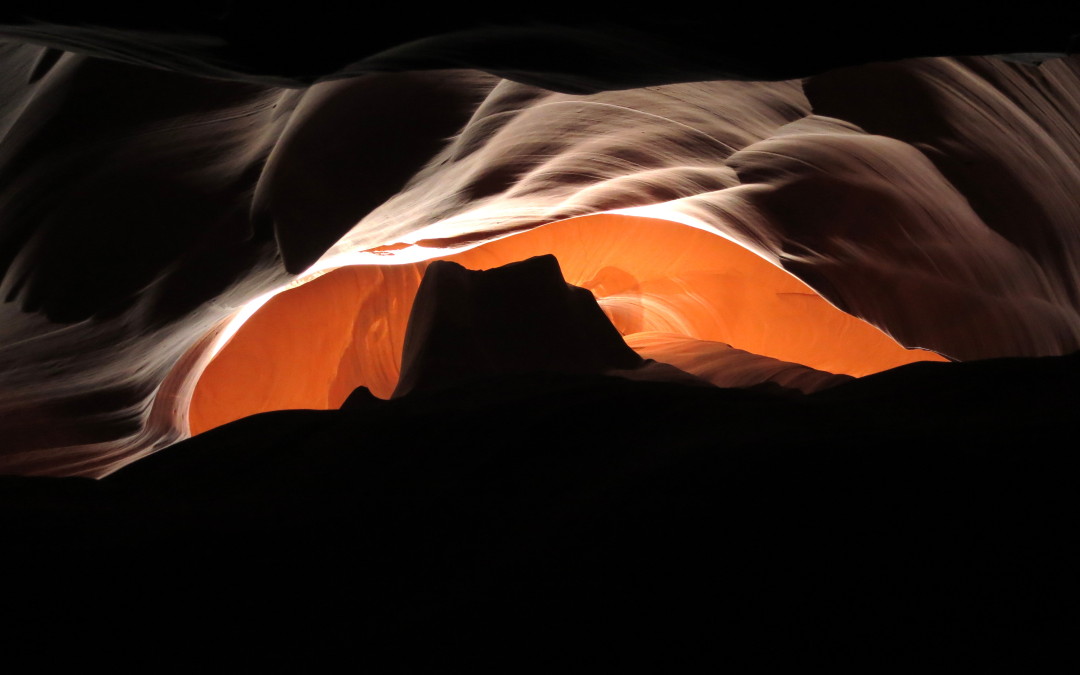 I envy little kids. Especially when they laugh. Or even when they're distressed, I envy their full trust when their parents and protectors say that everything will be OK.
By now millions around the world have seen the very touching conversation between a father and son about the tragedy that happened a week ago in Paris. Both the depth and simplicity of what they expressed revealed a truth about our human lives, where grief and beauty, sadness and strength, fear and comfort, concerns and happiness, intermingle.
As little children, grief seems to scar us less deeply. Fear can be fleeting and sadness temporary. Part of it is the bliss from ignorance and innocence, both a blessing. As adults, though, realization about life, knowledge of things good and evil, do not permit us to forget so easily. Moments of happiness can be infused with worry, knowing that good things don't always last. The knowledge of life's trajectory toward physical deterioration and death, even an intimate experience with death, can easily tinge our entire reality.
This knowledge is not bad, since it puts a check in our paths to not be so careless and irresponsible. It informs us on how to best live, to empathize and extend compassion, knowing that the same unfortunate things can very well happen to us too.
There are plenty of reasons to be somber and melancholic today, with the many wrong and fearful things happening in the world, the skepticism towards leaders and policies, and the feeling of hopelessness that may come as a result. Many of these are appropriate.
Yet we also must not lose our capacity for joy, for beauty, wonder, love, and hope. We are not to be morose all the time, but somehow simultaneously celebrate the fragrant things in life.
To me, Brandon (the son) and Angel (the father) showed this precisely, the courage to face tragedy—not being ignorant of it—mingled with the beauty of hoping and believing in the power of good.
It is simply our lot to know both good and evil, and we must live graciously with it.
Have you watched Brandon and Angel's conversation? What do you think of the video?
Riding the Cidomo in Gili Trawangan, Indonesia.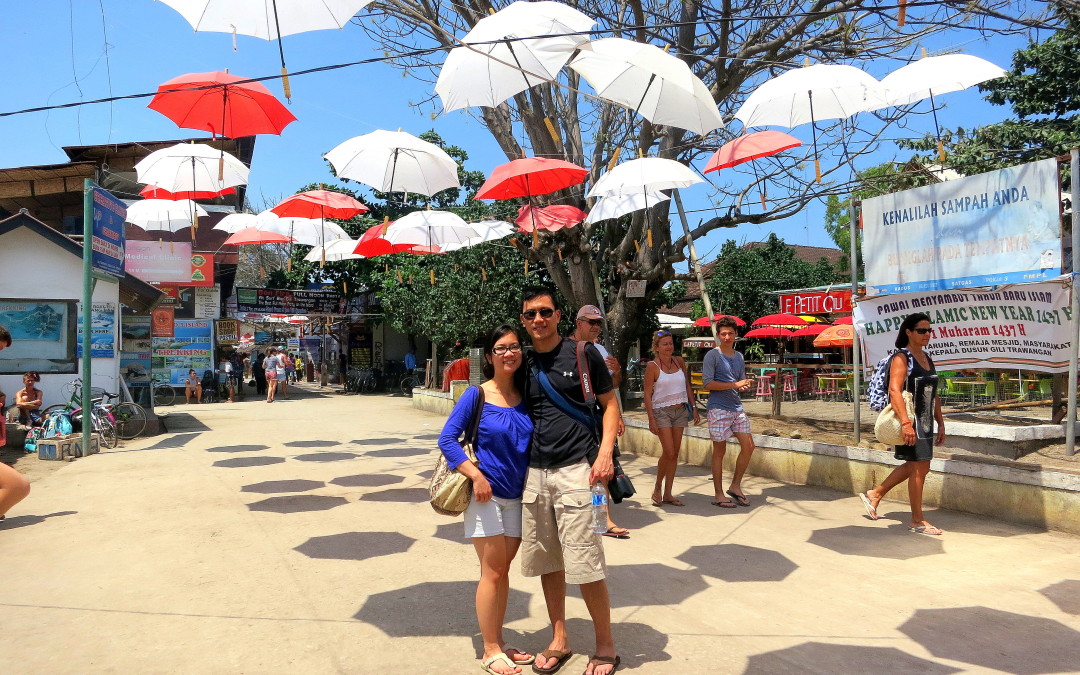 Just last week, I was in Gili Trawangan, a small island in south central Indonesia east of Bali. If I could take an elongated personal retreat, this would be the place I choose. You can circle the whole island in a few hours by foot or even shorter by bike. There is no motorized vehicle allowed on the island, so you'd get around by walking, biking, or riding a Cidomo, a horse-driven rickshaw.
It's a WONDERFUL place to be. I could seriously live there for a few months, living the simple life. Wake up, walk, eat, work a bit, snorkel or dive, and hangout with the locals or the multitude of foreigners who visit or live there. Next day, rinse and repeat.
How to Get to Gili Trawangan
Where exactly is Gili Trawangan, you may ask. I'll show ya.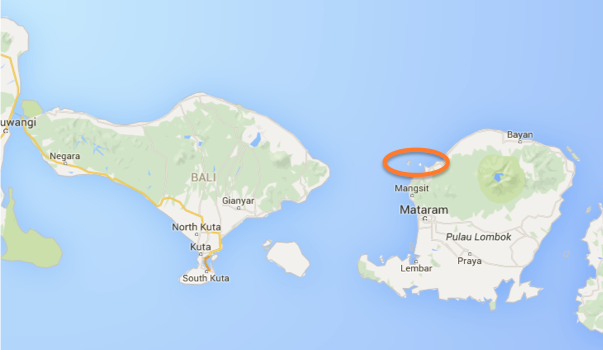 These are the islands of Bali (left) and Lombok (right), for orientation purposes. To find Gili Trawangan, we'd have to zoom in to the west side of Lombok. It is one of the three tiny islands just above Mangsit in the picture above. You'd have to take a boat from Lombok to get there, which you can charter for a very reasonable fee. Here they are, enlarged.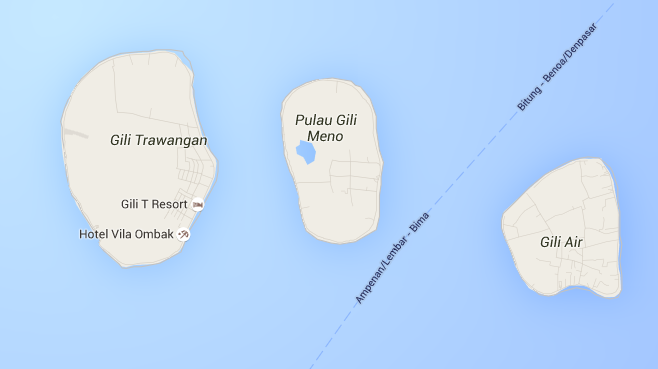 What to Do in Gili Trawangan
Snorkeling
The water was super clear! It was like swimming in an aquarium, and I dare say, better than Hawaii. Even better was the price – $10 for 4 hour-trip! Shoot. You could go everyday for a week and it would cost the same as one snorkeling trip in HI. Four hours, three snorkeling sites around the three islands, plenty of aquatic life and turtles. On the second day, we chartered a private boat to snorkel for 2 hours. Cost: $50. Heaven. (Except in heaven this type of thing would be free).
When they dropped you off at Turtle Point, you know, the point where the turtles are, some of the guys also jumped in to help you find the turtles and yell out when they find them. Local snorkeling guide – pure awesomeness.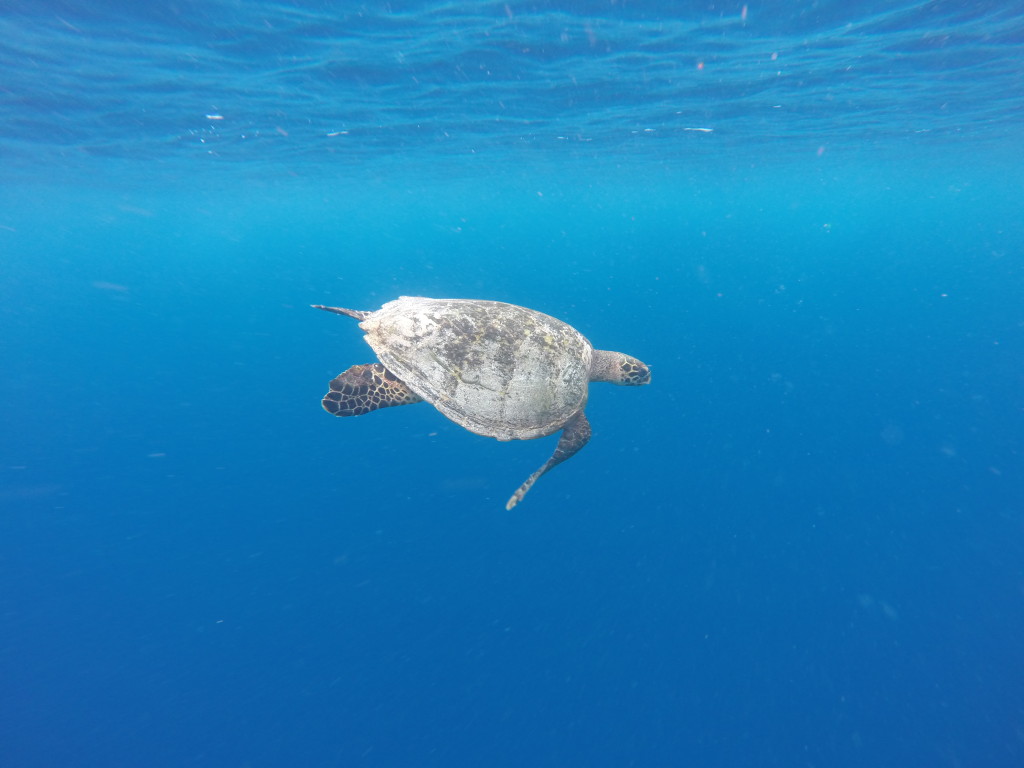 In the pursuit of turtles, we got stung by a million of tiny jellyfish. Maybe not a million, but definitely in the hundreds. You couldn't see them, but it felt like you were being pricked all over your body while swimming. I felt like Marlin in Finding Nemo.
2. Scuba Diving
There are plenty of scuba dive shops on the island, with an abundance of certified dive instructors from around the world who are living the chill type of live on the island. I tried scuba diving for the first time. Kinda scary. Probably because it was too short: ~30 minute in the pool, then off to open water. I freaked out a few times, especially in the beginning. But then underwater, you just gotta rein in the panic attacks. The biggest turtle I saw was during this dive, but I was too stressed out to savor the sight. But I'd do it again.
3. Biking
Many hotels have bikes you can use for free. I found it really relaxing to bike along the path around the island, with the sunset on the horizon. I loved it! No cars, no pollution, no noise, except for the horses.
4. Enjoy the Island Life
It was just…so…chill…
5. Mingle with People – Local and Foreign
Gili Trawangan didn't feel particularly Indonesian because there were so many foreigners there. It felt like there were more foreigners in sight than the locals, and thus a bit disorienting. But seeing some of these guys was awe-inspiring. They were the backpackers, the teachers in other Southeast Asian countries taking vacation, the entrepreneurs who could work from anywhere in the world, the diving instructors. A good number actually lives there. In my country! I was so jealous.
Jealousy turned into inspiration. Now my brain is churning ideas on how to live that way too…
—
In conclusion, Gili Trawangan was awesome. The best part: everything was so cheap, especially when converted to US$! There were vacation packages where you could island-hop all the way to Komodo Island for $30/day. Ridic! Next time, I'll do this.
Indonesia – most fascinating travel destination on earth.