All the World's a Classroom
These are the first five of the 10 specific things I like about God.
1. God's Pursuit
When God sets out to pursue humanity, to pursue me, He goes all out, even unto death.
Ephesians 2:4-5 – But God–so rich is He in His mercy! Because of and in order to satisfy the great and wonderful and intense love with which He loved us, Even when we were dead (slain) by [our own] shortcomings and trespasses, He made us alive together in fellowship and in union with Christ; [He gave us the very life of Christ Himself, the same new life with which He quickened Him, for] it is by grace (His favor and mercy which you did not deserve) that you are saved (delivered from judgment and made partakers of Christ's salvation).
It sounds like He couldn't bear the thought of man's nonexistence. He can't stand the fact that I was dead that He rose me up from a sinful life that was separated from Him. He did that even though the price was very costly – Jesus Christ, His Son.
2. God's Possessiveness
When God declares something, someone, or some nation to be His, He protects it like no other. No one can mess around with God's property because that would be equal to messing around with God.
The Bible says He is a jealous God. Someone explained to me that there's a difference between envy and jealousy. Envy is coveting what you don't possess but someone else does, while jealousy is not wanting to lose what you already have. It makes perfect sense then when God says He is jealous over His people. He does not want to lose what is His – it is a requirement, or a natural consequence, of love.
Zech 2:8 – For thus said the Lord of hosts, after [His] glory had sent me [His messenger] to the nations who plundered you–for he who touches you touches the apple or pupil of His eye:
Psalm 34:7 – The Angel of the Lord encamps around those who fear Him [who revere and worship Him with awe] and each of them He delivers.
Zech 2:5 – For I, says the Lord, will be to her a wall of fire round about, and I will be the glory in the midst of her.
3. God's Personal-ity
By personal-ity I don't mean the qualities or traits that He has. What I mean is the way He is so personal to me. A lot of people have relationships with God. But the Person of God that I know in my deepest heart is different and distinct than the Person that everybody else knows. Such is the nature of God's relationship with man; He is big enough for all of us. Each bond is different, as if there is no other person in the universe.
"The relations between God and each soul are as distinct and full as though there were not another soul for whom He gave His beloved Son." Steps to Christ, p. 105.
Moreover, I like how He reveals aspects of Himself that are exactly fitted and customized for every one of His child, for every circumstance. He knows when to tell me something I didn't know before about Him just at the right place and time.
Revelation 2-3 – To each church, depending on their circumstances and their needs, Jesus impressed upon them different aspects of Himself. Think about how unique and distinct each person is from the rest of the world? I am unique and distinct from the rest of the world, not because I'm such a special case, but because this is simply reality. No one in this world has gone through every single thing that I have been through. This is true for every individual. Our life experiences color the way we see and understand God. This means that my relationship with God literally is just between me and God.
4. God's Little Surprises Everyday
Insecurity is a real problem that men and women face, perhaps more for women than men. It demands some kind of affirmation and assurance everyday. Little things, which either boost or squash our confidence, could matter a lot especially in terms of relationships. Sometimes it doesn't matter how wonderful a relationship can be for one day, the next day is a whole new business. The assurance from the past doesn't always carry over. I think God knows how to deal with this problem.
Lamentations 3: 21-23 – But this I recall and therefore have I hope and expectation: It is because of the Lord's mercy and loving-kindness that we are not consumed, because His [tender] compassions fail not. They are new every morning; great and abundant is Your stability and faithfulness.
Everyday I wake up, I need to start over. And God has something different for me everyday, because my need is also different everyday. I just have to watch for what God has in store for the day, and it gets pretty exciting to see what God is going to do next.
5. God's Mysteriousness
God is mysterious and His ways are past finding out. I like how there are many, many things that I don't know or understand about God. He keeps me curious and amazed, and I can actually ask Him to amaze or make me wonder, and be in for a real 'whoa' experience.
Romans 11:33 – Oh, the depth of the riches and wisdom and knowledge of God! How unfathomable (inscrutable, unsearchable) are His judgments (His decisions)! And how untraceable (mysterious, undiscoverable) are His ways (His methods, His paths)!

Job 9:9-11 – Who made [the constellations] the Bear, Orion, and the [loose cluster] Pleiades, and the [vast starry] spaces of the south; Who does great things past finding out, yes, marvelous things without number. Behold, He goes by me, and I see Him not; He passes on also, but I perceive Him not.
[To be continued]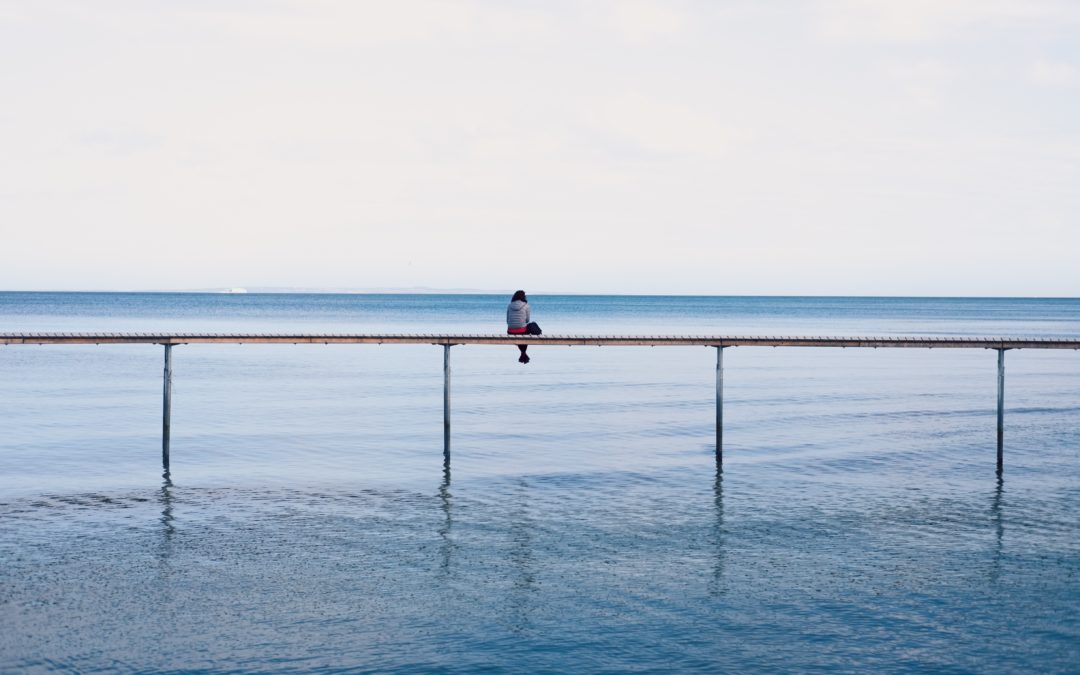 An experience we hardly admit. A thought we often shun. A fear we avoid at all cost. Loneliness.
Few would actually say "I'm lonely", not jokingly or with tongue in cheek, but in a solemn and sober manner. Outwardly, snickers may be directed to such a person, but there may also be inner, unspoken admiration for the courage to admit such a private state of being.
Why are we lonely? And why are we so afraid of being lonely?
Why Are We Lonely?
There are quite a number of reasons why loneliness occurs. Physical or geographical isolation from preferred companions is one. The absence of a refreshing and vibrant social network can trigger an isolated feeling and awareness.
It must be noted, however, that loneliness differs from being alone, because it can easily occur in the midst of social interactions. Studies show that occurrences of loneliness are rampant in big cities. People can feel alone in a crowd or even in a marriage.
Thus, loneliness lies in realms beyond the physical. The cause and the solution, therefore, cannot be just physical. It is perhaps quite clear that loneliness is not about the lack of company; it is the lack of intimacy. So the discussion must shift to the immaterial realm of human relationships.
Relationships and Intimacy
The lack of intimacy in relationships could further be caused by several reasons. Firstly, it can be caused by the loss of someone or a relationship through social problems or death. The space that was occupied by certain individuals is now permanently vacant, and the void demands something to fill it back in.
Secondly, it may be caused by a quality of friendship or relationship that is too shallow according to one's estimation, because it doesn't satisfy one's need to identify with another or to be understood in the innermost thought and motive. Such a relationship takes time. Moving to a new surrounding or a new place can be a source of this type of loneliness. Time, though, can potentially solve the problem given that efforts to develop relationships are expended.
The latter cause can be generally described as the discrepancy between expected intimacies with actual intimacies. This discrepancy introduces another factor into the equation, which is one's growth as he goes through life and various life experiences. Growth in life allows the expansion of one's concept and understanding about relationship and intimacy. Thus, something that may fulfill one's need today may not do so a few years down the line.
Where Loneliness Comes From
Out of these few sources of loneliness, it can be concluded tentatively, that the solution of loneliness requires: (i) a person(s), since it deals with relationships, (ii) an intimate relationship with that person(s), since mere company does not suffice, (iii) an established understanding of one's being at a deep level, and finally (iv) something dynamic and expansive that somehow would grow and expand with one's conception about the world.
These sources, however, are mere circumstances that trigger loneliness. Can any of it actually claim as the source or root of loneliness? Where does loneliness come from?
American Buddhist monk Ajahn Sumedho says,
We suffer a lot in our society from loneliness. So much of our life is an attempt to not be lonely: 'Let's talk to each other; let's do things together so we won't be lonely' And yet inevitably, we are really alone in these human forms. We can pretend; we can entertain each other; but that's about the best we can do. When it comes to the actual experience of life, we're very much alone; and to expect anyone else to take away our loneliness is asking too much.[1]
Existentialist philosophers explain the phenomenon of loneliness as a part, perhaps an integral part, of being a human. Each person is born as a separate entity from any other person, with consciousness that is distinct from anyone else's. Each person lives and dies alone. It is a given and a fact of life.
In other words, the root of loneliness lies in the fact that humans are individuals. We don't share our soul and consciousness with any other person. It is a given. Yet, this fact is not a hopeless end to the problem.
Loneliness: A Christian Perspective
In Christianity, the answer to loneliness is inevitably God. There is no other Being that can satisfy such demands of the soul. Furthermore, this Answer in the Christian worldview does not only fulfill the aforementioned criteria, but explains the root of loneliness as well. In contrast to Buddhism, this 'human form' is not a result of endless cycles of reincarnation in which being a human just happens to be the current state of existence, and one better learn and make the most of it. To the Christian, this 'human form' has an intentional origin. Unlike realism that stops at "It's just the way it is", the Christian knows that the given facts of life have a Life Giver.
If individuality has an origin, namely the Intellect who produces a unique design for each person, and if loneliness is the inevitable consequence of being an individual, the solution to loneliness must therefore be in the origin.
The One who creates individuals is the One who can fulfill men's loneliness at the deepest level. Expecting anything or anyone else to do so, will inevitably result in disappointment. At the end of the day, loneliness is in the mind. Each person is all alone in his thoughts and motives, and no one else can access that space except the God who can read the minds of men (cf. Psalm 139). This loneliness is the space God creates in each person for Himself, the God-shaped void, the eternity in men's hearts (cf. Ecc 3:11). It is felt even more by separation. While the Edenic parents could freely enjoy direct communion with God to satisfy their longing, sin has intensified loneliness in the present world (cf. Isa 59:1-2). Regardless, loneliness is an obvious sign that humans need God.
The publishers' preface to The Desire of Ages write:
In the hearts of all mankind, of whatever race or station in life, there are inexpressible longings for something they do not now possess. This longing is implanted in the very constitution of man by a merciful God, that man may not be satisfied with his present conditions or attainments, whether bad, or good, or better. . . . It is God's design that this longing of the human heart should lead to the One who alone is able to satisfy it. The desire is of Him that it may lead to Him, the fullness and fulfillment of that desire. That fullness is found in Jesus the Christ, the Son of the Eternal God. . . . Haggai calls Him 'the Desire of all nations,' and we may well call Him 'the Desire of all ages,' even as He is 'the King of ages.' It is the purpose of this book to set forth Jesus Christ as the One in whom every longing may be satisfied.[2]
Ultimately, the Christian should not be afraid of being lonely. It is the space where God can touch a person's soul in the deepest sense. It is a special time shared between just one Creator and one human being. It should be a joy for any two beings in love.
To conclude with an insightful quote,
The man who fears to be alone will never be anything but lonely, no matter how much he may surround himself with people. But the man who learns, in solitude and recollection, to be at peace with his own loneliness, and to prefer its reality to the illusion of merely natural companionship, comes to know the invisible companionship of God.[3]
Ps 107:9 For he satisfieth the longing soul, and filleth the hungry soul with goodness.
---
[1] Ajahn Sumedho, "The Way It Is" (http://www.budsas.org/ebud/see-way/way-is.htm)
[2] Preface to The Desire of Ages by Ellen G. White
[3] Thomas Merton, Thoughts in Solitude (New York: Doubleday, 1968), 40.
I wish I could wake up and say it was all just a dream. But it's not. My beloved father is gone and all I have left now is his memory. To many he was a great leader in the church, a supporter of God's work. To me he was a loving father, who literally laid down his life for his children.
I was privileged to see God worked in the last few years, months, weeks, and days of his life. I see with my eyes how God worked for his salvation, calling him back into a renewed experience and commitment to serve the Lord. We say we can't explain the will of God, and sure, there remain numerous 'why' questions whose answers I just have to wait for. Yet this time, I can't help being convinced that God allowed him to rest to save him. Until the last moments, we interceded on his behalf that the Holy Spirit would work in his heart in a mighty way that even on his deathbed there would be nothing between his soul and the Savior. It is a difficult exercise, but we trust the outcome to God fully.
This is a daughter's simple attempt to remember what God has done. After all is said and done, truly I can say the Lord is good.
Back in 2006
It was during my first summer canvassing that I started a prayer that God would revive my family.  The twists and turns have been unpredictable for sure, but God indeed is still answering that prayer to this day…
End of 2008
My home church experienced God's … should I say supernatural leading in choosing their elders for 2009. After 12 years, my dad finally let go of a particular burden he had been carrying and accepted the call on his knees. I knew God had something in store for his life then. What I didn't know was that God was preparing his soul for his life's end.
February 2009
My dad's heart condition deteriorated. A surgery was inevitable. With certain fearfulness, we prayed for strength and guidance as we went through the path that God chose for us. Life is in God's hands.
He went through a critical period of time, but thankfully he went out of it. It was such a joy and a relief. Truly it is a miracle that doctors could cut your heart open and you still live! Mom told us that he too felt that God gave him a miracle coming out of that surgery alive. The results weren't perfect. The valve in his heart was still leaking, but he was thankful and joyful anyway. Another doctor had told him that without the surgery, he could probably only last for a year maximum with his previous condition…
March 2009
My parents stayed about a week in Malaysia after the surgery and then came home. Of course life was different; Dad was under a strict diet, he couldn't drink too much water because his lungs had problems, but at the same time his kidneys weren't doing well either. But he was doing alright. We talked over the phone and webcam, and he looked well.
Sunday, March 29, 2009
As usual over the weekend we talked over webcam. Dad had just got a haircut and it looked cute. He was happy, and I still remember his countenance during this conversation. This would be the last time I would see his smile…
Monday, March 30, 2009
Dad got a fever around evening time and his body was all sore all of the sudden.
Tuesday, March 31, 2009
They went to the doctor and he prescribed him some antibiotics to take. His fever didn't get better though. In the evening he started to lose consciousness. He was awake and doing things, but he wasn't completely there when Mom would talk to him.
Wednesday, April 1, 2009
They went back to the hospital and this time they kept him there. He went into the ICU. His consciousness worsened too, and very soon he was on all kinds of life support. Mom didn't tell us at this time, but the doctor said that there was little hope of recovering. He was basically in a coma from this time on.
Mom called me and my siblings crying, telling us Dad was in the hospital again. We didn't know how serious it was; after all I just saw him three days ago.
Thursday, April 2, 2009
Not knowing what to do or how bad the situation really was, Mom told us that she wanted my brother to go home immediately. My sister and I would be on our toes; we could be going home anytime too.
Friday, April 3, 2009
Mom told us all that we should go home. So on this day all of us told our professors and bought our tickets. I can't put into words what fear and all the things that went on my mind…
I went ahead to ANEW in the evening, a little uncertain whether I should just miss it and get on a flight to Indonesia right away. But it was the right thing to stay. That evening though, Mom called again and told me to talk to Dad over the phone. Even though he was unconscious, he could still hear people talk. I told him to stay strong. I would be coming home soon to see him. It broke my heart…
That night it finally dawned on me that I might be going home to say goodbye. The sadness was suffocating. I got on my knees and stayed there, refusing to get up until God would answer me. I was pleading like I never did before…
What God gave as an answer to me was a picture of Jesus in Gethsemane. If there was a Person who did not want to be separated from His Father, it was Jesus. He wanted to be with His Father always, but He said "Not as I will, but as thou wilt." His death made it possible for us to be alive – not just now, but eternally. Jesus too had lost His earthly father. My Savior knows my pain and grief. I know that He is 'acquainted with every circumstance of my life and all my inner thoughts and feelings…'
God knows how to reveal Himself in moments when we need Him most. He revealed this part of Him just at the right time, and I treasured it. He led me to pray for Dad's salvation, telling me that if it was His will to save him by allowing death, then that would be the best thing for him. He reasoned with me, wouldn't I want what is best for Dad too? Yes, of course I did. What if Dad stays alive, yet he would lose his salvation? I definitely did not want that. Gently, Jesus asked, don't I want the same thing that He does? So I told my sweet Jesus, yes, Lord, I want what You want.
And then there was peace. I think I might have said my goodbye to Dad at this time … My prayer then that God would sustain Dad a little more so I could see him.
Sabbath, April 4, 2009
ANEW was such a blessing. This was the mission that God called me to, and I would do anything in my power to get Jesus here as quickly as possible – the true solution to all our problems.
I flew home Monday, April 6, 2009, and arrived in Jakarta on Wednesday, April 8, 2009. I went to the hospital right away and saw Dad. He looked really sad. What actually happened was that the valve in his heart got infected, and because the blood was affected, it spread all over his body. There in front of me was the rotten fruit of the lie Satan told in the Garden of Eden. Look where we have come to…
The next few days we spent as much time with Dad as possible. We read the Bible to him by his bed, sang to him, prayed with and for him, told stories, encouraged him not to lose faith and hope in God. To me it might have the truest picture of ministry. Like taking care of a plant, you do everything you can, but relying 100% on the Holy Spirit to work in the heart.
Thursday, April 9, 2009
We talked to the doctor and he basically said there was no hope of him getting healed. It was a shock to my siblings …
Friday, April 10, 2009
During the afternoon his heart rate declined a little. On this day also finally all of Dad and Mom's relatives from other towns and cities made it to Jakarta and came to the hospital. In the evening around 8 PM I asked the nurse whether we should stay at the hospital that night or not. She said not to go home. Around 8:30 PM she called us into the ICU, because his heart rate kept going down… We stayed by him… There was only surrender. When his heart rate was really close to stopping we started singing When Peace Like A River… After the third verse, my dad passed away…
When peace like a river attendeth my way,
When sorrow like sea billows roll
Whatever my lot, Thou hast taught me to say,
It is well, it is well with my soul
My sin—O the joy of this glorious thought
My sin, not in part, but the whole,
Is nailed to the cross, and I bear it no more
Praise the Lord, praise the Lord, O my soul!
It is well, with my soul
It is well, it is well with my soul
And, Lord, haste the day when my faith shall be sight,
The clouds be rolled back as a scroll
The trump shall resound and the Lord shall descend,
"Even so" it is well with my soul.
What is man? Our life is like grass, here today and gone tomorrow. Yet God says He is mindful of us… It has been 50 days since my dad is gone. Last night for the first time, I dreamed of him. What can I say…I miss him terribly.