All the World's a Classroom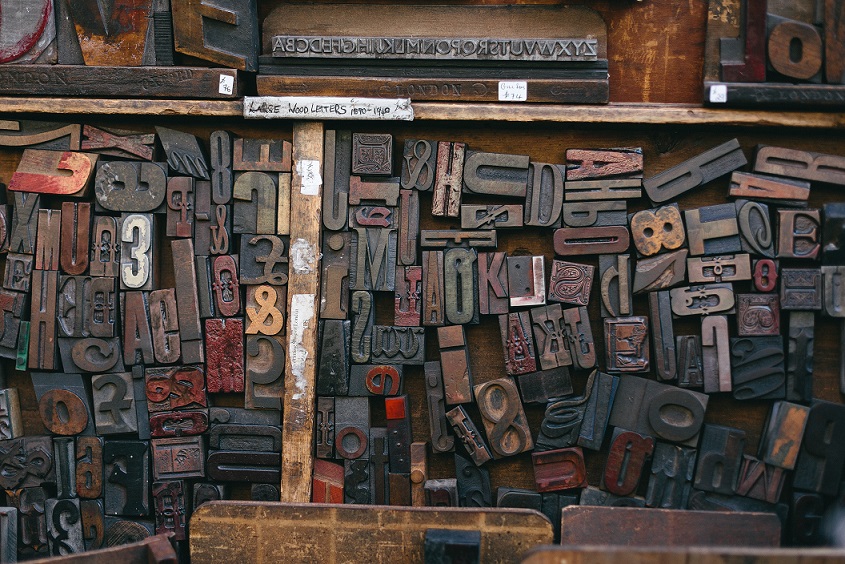 Trevor Noah's book, Born a Crime: Stories from a South African Childhood has a glowing 4.8-star average review on Amazon. He's a comedian who is currently heading the satirical news show The Daily Show.
Trevor was born during apartheid, which, in his words, "was a police state, a system of surveillance and laws designed to keep black people under total control." He grew up in the complex post-apartheid South Africa. Being a mixed child–from a white father and black mother–he was literally born a crime, because the law prohibited interracial marriage or "carnal intercourse" between blacks and whites. For most of his childhood, he navigated life as an outsider, since the way he looked and how he was brought up did not align with the typical constructs of the South African sub-societies. A chameleon was what he called–and still does–himself.
Using Language to Change Perceptions
Yet one poignant insight that he gleaned from his outsider-ness was the power of language in "hacking" racism. Apartheid did not only separate black and white people; it separated every identifiable skin color and subculture to weaken its opposition. Crediting his mother, who really is the heroine of his book, he says, "Living with my mom, I saw how she used language to cross boundaries, handle situations, navigate the world."
If you've seen any of Trevor's stand up, you'll see that he's incredibly skilled in accents and imitations. He speaks something like six or seven languages.
I learned to use language like my mother did. I would simulcast—give you the program in your own tongue. I'd get suspicious looks from people just walking down the street. "Where are you from?" they'd ask. I'd reply in whatever language they'd addressed me in, using the same accent that they used. There would be a brief moment of confusion, and then the suspicious look would disappear. "Oh, okay. I thought you were a stranger. We're good then."
In another instance, a group of guys intended to mob him because they thought he was white. But as they plotted in their language, Trevor, who understood what they said, replied in kind and suggested that they all mob someone else together.
They were ready to do me violent harm, until they felt we were part of the same tribe, and then we were cool. That, and so many other smaller incidents in my life, made me realize that language, even more than color, defines who you are to people. I became a chameleon. My color didn't change, but I could change your perception of my color. If you spoke to me in Zulu, I replied to you in Zulu. If you spoke to me in Tswana, I replied to you in Tswana. Maybe I didn't look like you, but if I spoke like you, I was you.
Language, Connections, and Trust
Language is key in defining a tribe.
Language brings with it an identity and a culture, or at least the perception of it. A shared language says "We're the same." A language barrier says "We're different." The architects of apartheid understood this. Part of the effort to divide black people was to make sure we were separated not just physically but by language as well. In the Bantu schools, children were only taught in their home language. Zulu kids learned in Zulu. Tswana kids learned in Tswana. Because of this, we'd fall into the trap the government had set for us and fight among ourselves, believing that we were different.
Yet, he continues, language's power to divide can easily be reversed.
The great thing about language is that you can just as easily use it to do the opposite: convince people that they are the same. Racism teaches us that we are different because of the color of our skin. But because racism is stupid, it's easily tricked. If you're racist and you meet someone who doesn't look like you, the fact that he can't speak like you reinforces your racist preconceptions: He's different, less intelligent. A brilliant scientist can come over the border from Mexico to live in America, but if he speaks in broken English, people say, "Eh, I don't trust this guy." "But he's a scientist." "In Mexican science, maybe. I don't trust him." However, if the person who doesn't look like you speaks like you, your brain short-circuits because your racism program has none of those instructions in the code. "Wait, wait," your mind says, "the racism code says if he doesn't look like me he isn't like me, but the language code says if he speaks like me he…is like me? Something is off here. I can't figure this out."
Reflecting on my own experience with languages, I realized that I was spared weird looks and condescending stares when I moved to the US because I was reasonably trained in English. I don't recall an incident where an English speaker had to slooowlyy spell out each word they're saying with his head tipped down, with that wide-eyed, condescending look that I see a lot in situations related to immigration or airport security. At least, this act won't last long because I could meet them where they're at in comprehension and speed of pronunciation. But certainly, I see it a lot when I travel with other non-native English speakers who may not be as quick in understanding the rapid speaking pace of a native speaker. It annoys me tremendously.
Incidents like this reveal the deep interconnection between language and trust. People naturally don't trust those who are different than them. But a common language, even though skin-deep differences exist, can override that prejudice and engender trust.
Nelson Mandela once said, "If you talk to a man in a language he understands, that goes to his head. If you talk to him in his language, that goes to his heart." He was so right. When you make the effort to speak someone else's language, even if it's just basic phrases here and there, you are saying to them, "I understand that you have a culture and identity that exists beyond me. I see you as a human being."
Check out Born a Crime: Stories from a South African Childhood for a treasure of hilarious and insightful stories. I recommend getting the audiobook, which you can get at a hefty discount using the trick outlined in this post.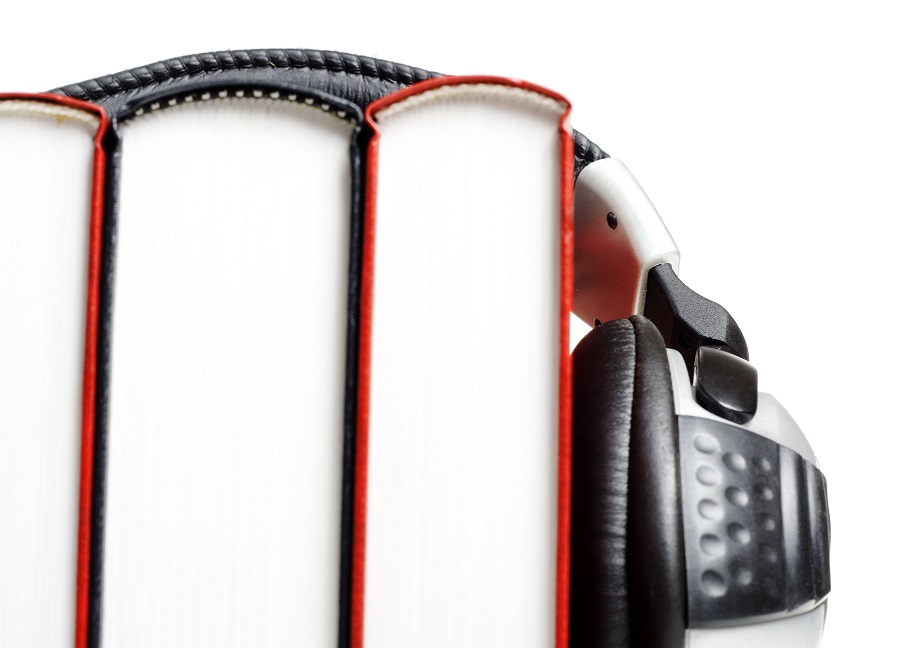 This article contains tips on how to take advantage of the Whispersync for Voice feature by Amazon and get audiobook discounts. I'll also show you how to add Whispersync to your Kindle books. If you're an Amazon consumer, particularly Kindle ebooks and audiobooks consumer (i.e., Audible members), you're probably familiar with or at least have heard about Whispersync.
The Amazon audiobook service is called Audible, and to read more about Audible membership and how to save money during sign up or after you've subscribed to Audible, read this article: How to Save Money on Audible Membership. You can try the membership service for free for 30 days and get 2 free audiobooks (you can keep them no matter what).
Try Audible for 30 Days and Get Two Free Audiobooks
Whispersync is a neat feature that lets you synchronize the location of your latest read in the Kindle ebook and audiobook when you have both versions of the same title in your library. Many ebooks, though not all, offered by Amazon are Whispersync for Voice-ready enabled, allowing you to pick up where you left off from the audio or ebook version. It's great because it combines the flexibility of the audiobook, like being able to multitask while listening to a book, and the handiness of highlights and writing notes on the Kindle ebooks.
Now, why would you want to buy both the ebook and audiobook versions of the same title? One reason is for the discounts!
When you buy either an audiobook or a Kindle ebook that is Whispersync for Voice-ready, Amazon will likely give you an offer to buy the other version at a heavily discounted price. Sometimes, the total price for this combination will be lower than the original price of either the audio or ebook version.
I usually prefer ebooks, since I like to go back to certain sections of the book, get quotes, etc., which would be difficult with the audio version. A few times, I've found out that buying the audiobook first, then taking advantage of the Whispersync offer, I get a lower total amount spent and I have both the ebook and audiobook versions in my library.
Here's an example on how to do it, screenshots included.
How to Add Whispersync to Your Kindle Books and Get Audiobook Discounts
Example: I did this recently with Trevor Noah's book, Born A Crime: Stories from a South African Childhood. With raving reviews, this book turns out to be a perfect example on why it's great to have the ebook and audiobook versions. Trevor is both hilarious and insightful. He's a comedian from South Africa and a brilliant storyteller. He's currently heading the satirical news show The Daily Show, which he inherited from the legendary Jon Stewart.
Trevor was born during apartheid and grew up in the complex post-apartheid South Africa. His life stories are out of this world. Noah narrates the audiobook version, which is awesome, since he fully characterizes the people he mentions in the book. So, not only you get to listen to the words as he intended them to sound, you'll also get the full affectation and the true pronunciations of the numerous languages that he masters. He even says "Volkswagen" the proper way.
This is the Amazon page for the Kindle book. It's priced at $14.99.

If you see on the right of the image, beneath the 1-Click purchase button, there is a box that you can check that says "Add Audible narration to your purchase." In this case, the additional cost of the Audible narration is $4.99. To get both the ebook and audiobook, check this box.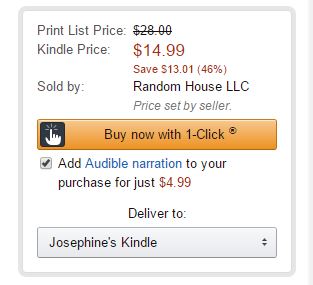 If you see the original price of the audiobook alone, it's listed at $21.95. So if you actually go the ebook + audiobook route, your total is $14.99 + $4.99 = $19.98, which is less than the audiobook alone. Of course, there will be taxes applied to your purchase, but the taxes will exist in both cases. Note that if you have an Audible membership, you may get the 30% discount on any purchased audiobook, so this comparison wouldn't apply. In any case, the additional cost of having both versions in your library is marginal.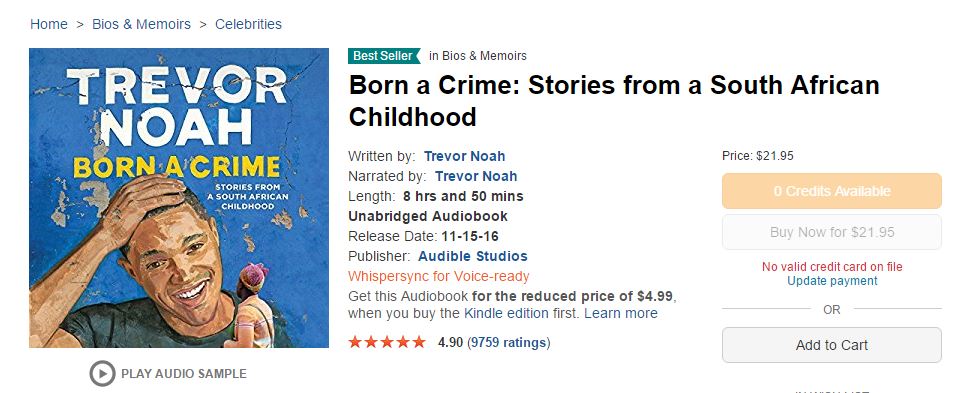 Additional Notes
One thing that happened to me when I purchased this book was the notification that the credit card on record in my Amazon account and Audible account has to be the same. I think if they were the same, the purchase of both versions could be done simultaneously.
I actually had some Amazon credit that I could use to buy the Kindle ebook, so I went through the steps to purchase the ebook first, using my credit. Then I went to my Audible account, and it knew that I had purchased the ebook, so the audiobook was priced at $4.99. I then purchased the audiobook version using the credit card I had on the Audible account.
Kindle book purchase:

Audiobook purchase:
This means that if you have some Amazon credit (e.g., from gift cards, etc.), you cannot use this to purchase audiobooks, since the audiobooks are sold on the Audible website, with separate accounts. Just a heads up.
—
You can explore more titles and use this trick to see if you can get good deals on audiobooks. Many ebook titles, especially the classics, are free on Amazon. Once you've "bought" them and have the ebooks in your account, the audiobook offer becomes very cheap. To find Whispersync deals, or to scan through your ebook library to see the Whispersync discount offer, go to this page.

You can see the links there for deals or "Add Audible Narration to Books You Own". The last link there will scan all of the ebooks you've owned and list the prices to add Audible narration.
Hope this is useful for you, and enjoy reading and listening!
Want ideas on which audiobooks to start listening to? Check out my favorite books from 2015, 2016, and 2017.
Other how-to articles on Audible Membership
How to Save Money on Audible Membership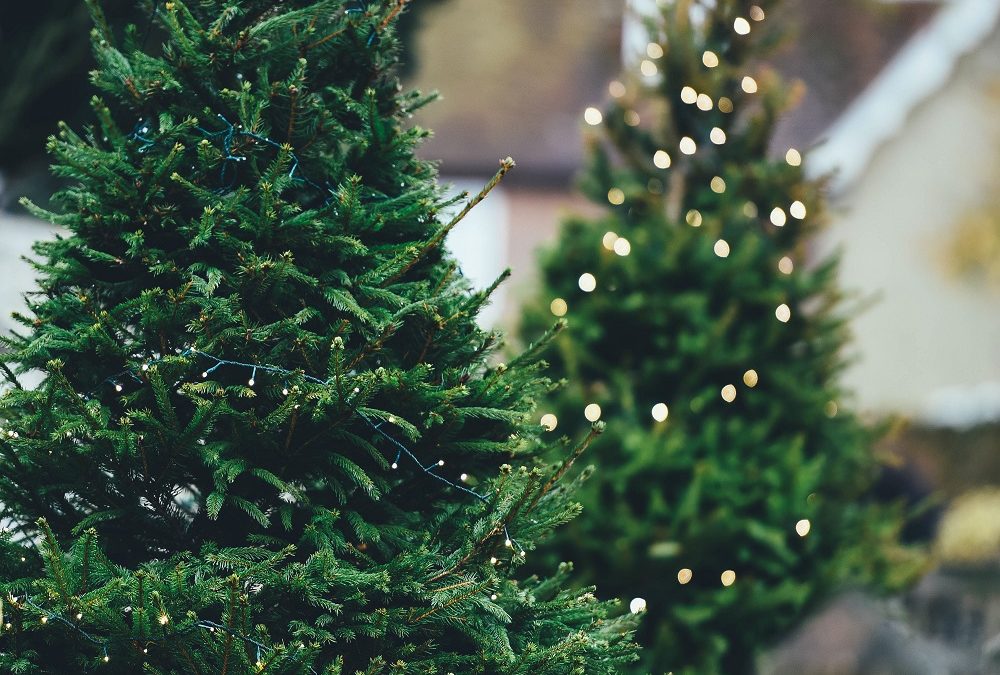 When you move a tree, as long as you take care of the roots, the tree will be ok. I heard this from a guide at the San Diego Zoo. He was describing the construction of a new expansive exhibit, the 8-acre Africa Rocks, that was slated to open in 2017. There was a precious nugget of truth there.
To build the exhibit and create a new ecology that mimics Africa's natural habitats, they had to bring in grown and established trees from. Since zoos don't have years to wait for the trees to grow, the trees there are all migrants, of sorts.
How do you move a grown tree? Apparently, it's all in the roots. As long as the roots' immediate environment is stable and unperturbed, the tree will survive and thrive just OK, even across overseas transport. They are not so fragile as to wither and die upon removal, even when this moving process is unnatural to their existence. They can continue on living, blossoming, and bearing fruits.
It's inevitable that I see the metaphor here, since I've been going through some uprooting process myself. Last fall, I moved to a new state, changed my whole work setup, and planted myself in a completely new environment. It felt like my entire life dynamic changed and a new equilibrium is yet to be found.
Moving can be disorienting. One has to figure out life's simplest things again, like grocery stores, food sources, and happy places to escape to (re: bookstores). Like the trees, if certain roots are not taken care of, there are consequences. Maybe some branches wither and die, maybe a fruitful season is skipped.
To be honest, I haven't been doing that well taking care of my roots this time around. And the effects are real. A tree without roots is easily tossed by the wind.
At the very least, though, I know a little about my root system. Reading books and writing are always my rescue in times of great changes. They're part of my constants, part of my equilibrium. At least I know there are a few things I can hold on to.
Do you know your root system? Maybe you're going through some changes this year, or you're about to face major life changes soon.
Take care of your roots, so that the change will not cause some of your fruits to wither. There will be adjustments that you'll definitely experience, but you can minimize any negative effects by keeping your roots taken care of. And then one day, know that you too will recover, blossom, and flourish in your new environment.